Lubec, Maine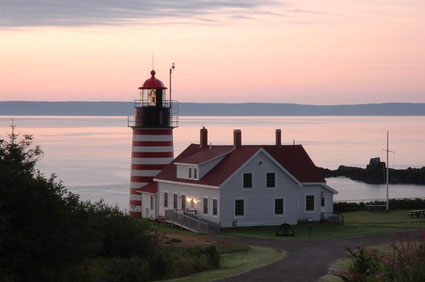 Nearby West Quoddy Head Lighthouse
the Easternmost Town in the U.S.A.
Things to do in the region
West Quoddy Head Lighthouse (the easternmost point in the Continental U.S.), East Quoddy Light on Campobello Island (FDR's summer home); hiking trails, whale watching, 26-foot tides, fishing, seal watching, puffins, whitewater rafting, kayaking, ferry rides to Deer Island, Eastport, Canada, Grand Manan Island.
The summer months host hoards of artists and musicians enriching the community and providing free entertainment. Just a 2-1/2 hour drive to Bangor, one hour to St. Johns and St. Andrews, New Brunswick, two hours to Bar Harbor, and two minutes to Campobello Island. Or stay right in Lubec and enjoy a lovely old Victorian town, high on a hill, jutting into the Bay of Fundy, and especially, enjoy the local 'Maineiacs' and their own special version of hospitality.
VisitLubecMaine.com
Visit Roosevelt Campobello International Park  info@fdr.net
Lubec Pirate invasion Labor Day weekend
Eastport Pirate Festival   www.funtober.com
Local Farmer's Market Saturdays in season, 9 to noon.  Great fresh veggies, herbs, meats and treats.
Visit the Lubec Bulletin Board lubec bulletinboard.com for local happenings and general information.
Deep sea fishing or whale watching with Fundy Breeze Charters email:  capt.skipharris@gmail.com
Lubec Historical Society email Lubechistoricalsociety@yahoo.com
Lubec town Office email townoflubec.com
West Quoddy Lighthouse westquoddy.com
Raye's Mustard Mill  rayesmustard.com
Monica's Chocolates  www.monicaschocolates.com
Local links