Reservations & Policies
for rental of our Inn Rooms & Cottages
We want your stay at our inn to be as enjoyable as possible. Please take a few moments to read the following reservation and policy information.
To Reserve a Room in Beautiful Downtown Lubec, Maine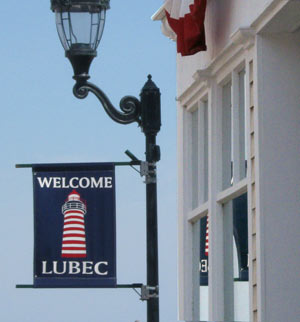 Please check our Availability on Line website.
Reservations for accommodations can be made on line on our website or by calling 1-207-733-0122 or 1-941-524-6871.
Prior to making a reservation, we suggest that you check the availability of our rooms for the specific dates you will be requesting. All reservations must be guaranteed by credit card or by a check deposit of $100.00.
ALL ROOMS REQUIRE STAIRS TO ENTER.
Cancellations
There is no charge for a reservation cancelled 7 days in advance of arrival. Guests canceling less than 7 days in advance of their scheduled arrival will be charged 1 nights rate if the room cannot be re-rented. These charges will be refunded if the room(s) are subsequently rented. If a guest does not show up or cancel, 1 night's rental will be charged to the credit card or the deposit check will not be returned.
Payment Methods
We accept  Visa, Master Card and Discover Card and of course cash in US dollars.
Check In / Check Out
Check-in time is from 4:00 p.m.; check-out time is 11:00 a.m. Early arrivals are welcome to check in with us and drop off their luggage. Late check-in is available. Contact us (207) 733-2477 for directions to obtain your room key if you plan on arriving after 6:00 pm.
Room Occupancy
Our room rates are based on single or more occupancy.
Children
Children are welcome, but we remind parents that the welfare of all the guests is our primary concern.
Pets
Please, no pets in all rooms and dining areas. If a pet odor is detected in the room an additional cleaning/de-odorizing charge of $200 will be applied.
Smoking Policy
The Water Street Inn & B&B is a smoke-free establishment. NO SMOKING! If a smoking odor is detected in the room an additional cleaning/de-odorizing charge of $200 will be applied.